01042016 Grant Thornton Education Initiatives
On the 1st of April 2016, GT CSR ambassadors prepared 3 months' supply of sanitary pads donated by our clients "Giant Group of Nairobi Twiga" which were distributed to 80 girls at New Dawn Education Centre. The expected impact is that no girl will miss a day of school because of their periods.
Earlier in 2016, Stella and Mary, who are former students of New Dawn Education Center were given the opportunity to gain work experience at Grant Thornton. This came after they completed their secondary school education. During the last global CSR day the two girls showed interest in the accounting profession and we promised to take them in to experience the real world of accounting. They have been with GT Kenya since February 2016 on Internship in the Tax compliance department where they are being trained on basic tax procedures and work. So far, they have proved to understand their assignments and have also been able to file Tax returns online under minimal supervision.
We are also in the process of sponsoring 6 children in different levels by paying their fees.
17092015 Grant Thornton Global CSR Day - #GTintheCommunity
As part of Grant Thornton's Global CSR Day held on the 17th of September 2015, Grant Thornton Kenya visited two registered Charities, New dawn Education Centre and Dream Children's Home in Kiambu and Ngong respectively. The day was dubbed 'Growing together in the community' and is a reflection of Grant Thornton's commitment to giving back to the society.
50 Grant Thornton people actively participated in making the two events a success. The event also went viral on Twitter using the #GTintheCommunity hash tag. Grant Thornton raised KSh 223,930 for the events. The firm also got support from corporates such as Kim Fay, Pembe Flour Mills and Devkan Enterprises who made generous contributions.
At Dream Children's Home, the firm touched 74 lives. The Home got a 10,000 litre water tank which will go a long way in making sure the home has a constant water supply. They also got assorted food and clothing items as a personal donation from individual members of the Grant Thornton team.
At New Dawn Education Centre, 147 lives were touched through a mentorship talk by the firm's Managing Partner, Kamal Shah and Tax Director, Samuel Mwaura. The students also got to interact at a personal level with individual members of the team. The school also got food, stationery and personal hygiene donations.
The children had fun with the Grant Thornton team, singing songs and getting to know each other. At the end of the day, everyone was happy because we exchanged the joy that comes with caring for one another.
23052015 Grant Thornton Corporate Social Responsibility Luncheon at Dreams Children's Home
Grant Thornton has identified a children's home in Ngong filled with bright young faces that are Kenya's future. We are actively involved in providing the children with the support they need to achieve their dreams. This is in line with our slogan, "helping dynamic organizations to unlock their potential for growth."
Grant Thornton organized a luncheon for Dreams Children's Home on Saturday, 23rd of May 2015. The event saw 60 children treated to a special lunch where they got to interact with staff from Grant Thornton. The children mingled freely and were happy to have the whole team just spend some time with them. 30 of our staff volunteered to visit the Home in a show of love and compassion.
Grant Thornton also donated maize meal, wheat and millet flour, cooking oil, exercise books as well as sports equipment. We intend to cover all aspects of the children's development. With their basic needs met, the children can focus on getting good grades in school and developing their talents. It is hoped that our support for Dreams will go a long way in showing the children that they are valuable members of our society.
Aside from this, the Home's biogas system was repaired by some of the Grant Thornton CSR Ambassadors. The Home can now go back to using biogas which is more affordable than wood and fossil fuels. This just shows the diversity in skills that is represented at Grant Thornton. One of the pillars of our CSR activities is the use of any of our skills to make a difference in the communities we touch.
The children had fun with the Grant Thornton team singing songs and getting to know each other. At the end of the day, everyone was happy because we exchanged the joy that comes with caring for another.
17092015 Grant Thornton Global CSR Day - #GTintheCommunity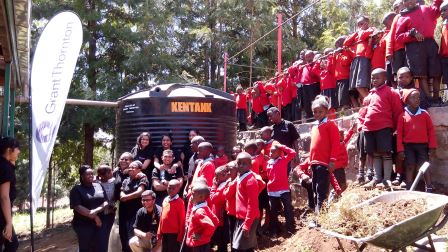 17092015 Grant Thornton Global CSR Day - #GTintheCommunity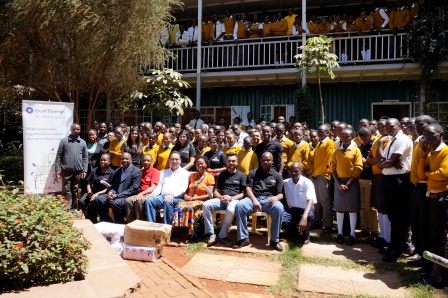 23052015 Grant Thornton Corporate Social Responsibility Luncheon at Dreams Children's Home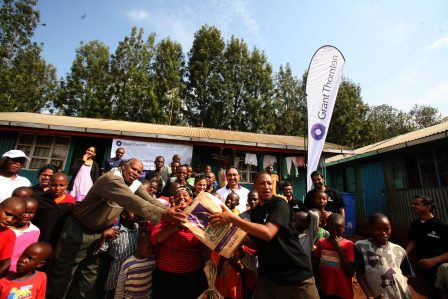 17092015 Grant Thornton Global CSR Day - #GTintheCommunity